What is Longleaf Pine?
Longleaf Pine is the legacy forest of East Texas. Check out the Longleaf Pine in East Texas tab to learn more about its everlasting history in Texas, and across the nation.
Why Longleaf Pine?
The iconic longleaf pine forest is part of our state's natural heritage and can provide a suite of benefits such as timber income, wildlife habitat, hunting, and recreation. Check out the Longleaf Pine Ecosystem tab to learn more about the importance of restoration and management of longleaf pine.
Are you a Landowner?
If you're a landowner interested in longleaf, the Texas Longleaf Team can help! We are a network of conservation organizations and can help connect landowners to information and financial assistance. Check out the Landowner Assistance tab for more information, or reach out to us through our contact form!
In the heart of east Texas stands the remaining acres of the longleaf pine forest. With tall, stately trees, lush grasses, forbs and wildflowers this iconic forest was historically and still is a wonderful part of our state's natural heritage. Native Americans and European settlers derived food, medicine and fiber products for their lives. Deer, turkey, quail and other wildlife used the forest as habitat. Today we use the forests for many of the same benefits, including recreation. The beauty and aesthetics of the landscape are inspirational.
With the loss of forest acreage there is a resurgence to protect and conserve remaining longleaf forests. There is sharing of information and technology to assist conversion of lands and with restoration and management of forests.
The Texas Longleaf Team is a group of individuals, organizations and agencies that share a passion for this iconic species. With a national resurgence in this species, Texas has formed the implementation team, at last count 188 members strong, to work together and celebrate all aspects of longleaf pine.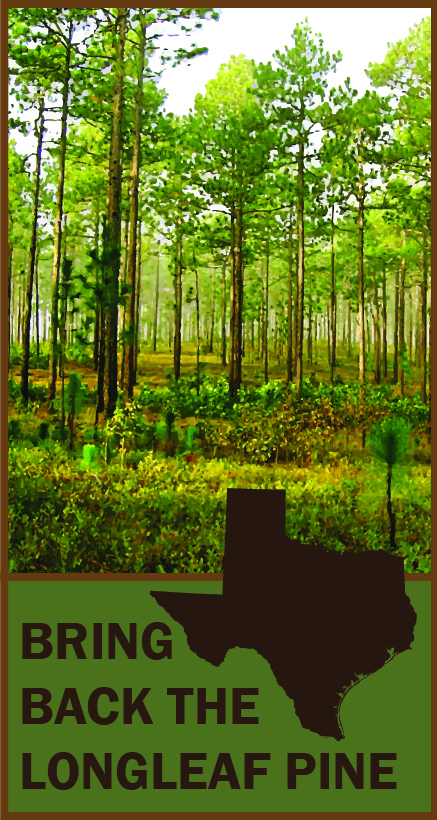 Featured Images
Are you a landowner? Check out our "Assistance" tab for information about cost-share opportunities, land management techniques, and more!